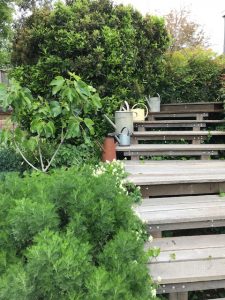 "A recently developed garden shows surprising results."
The garden was commenced four years ago, with an effort to add to the borrowed landscape we enjoy.
The majority of our wide range of plant species came from cuttings, seeds or transplants with an emphasis on drought tolerant hardy plants.
Features include an excavated courtyard garden complete with fishpond and water wall, a unique garden shed and interesting pathways, steps & stairs.
The process has entailed a lot of labour, a lot of love and more than a bit of luck